Raffle Ticket Printing
For ALL your printed raffle ticket needs, with the best service and the best prices, QuickPrint UK, based in Loughborough, Leicestershire in the heart of England, is the biggest raffle ticket printing company in the UK, with an unrivalled yearly production of well over 100 million tickets!
Here at QuickPrint UK, we are the chosen prize draw ticket printing supplier to a huge variety of clients including national organisations, charity foundations and numerous football league clubs, most of whom require multi-million print runs – but we also look after many small local societies who may need only a thousand tickets.  ALL our clients matter to us and all have a diverse range of requirements – but what all of them do have in common is that they can confidently rely on our high quality service and standards, rapid delivery and unbeatable prices.
Raffle ticket options
Two size options
Online ticket designer
Coloured and seasonal background options
Your logo included if required
Full artwork service available
One, two, three of full colour options
Whether you choose to have stunning full colour tickets or a traditional, simple single colour design, Quick Print UK's excellent service, rapid delivery and really rather reasonable prices ensure that your fundraising efforts and investments show the maximum returns.
We have the printing technology and knowledge to get the job done
To ensure we remain the biggest and the best raffle ticket printer in the UK, Quick Print has invested heavily in new plant and equipment innovations. We now boast a whole range of the most up-to-date process equipment and state of the art design and production facilities, which have been uniquely designed for maximum efficiency. As a result, our brilliant team of dedicated professionals, with many years' experience and knowledge in the prize draw ticket printing market, can continue to provide you with an excellent service.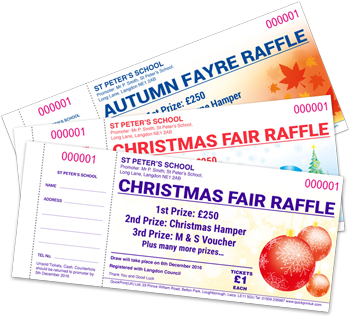 When you order online our tickets include:
FREE UK delivery (Allow approximately 7-10 working days)
Colourful seasonal background designs
Your text and logo printed in colour
Express service available (2-3 working days)
Design and approve your tickets online
Sequential numbering in two positions
Double perforations
Flexible to your needs
However, we can work to any requirements, and so should you wish to have, for example, printing on the reverse of tickets, orders despatched to multiple addresses, tinted paper, recycled paper, or any non-standard tickets (perhaps larger sizes, multiple colours etc.) don't hesitate to contact us and we'll be more than happy to help.
Left it until the last minute? We can now offer an EXPRESS SERVICE on our printing services. For an additional fee of just £20 we can despatch your order in 2-3 working days.
Order online or by post or fax and you can be sure of the top class service that clients of Quick Print UK have come to expect as standard. Contact us today – and you can expect it too.
To view our raffle ticket prices please click here.
If you prefer you can download our order form, print it out and then send it to us by post/fax.